Sheb Wooley Signed Rawhide Hee Haw High Noon Purple People Eater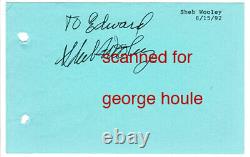 Signed and inscribed to Edward Geller. "To Edward / Sheb Wooley".
Sheb Wooley born Shelby F. Wooley was an American actor and singer.
He had 61 film and. Television credits including High Noon (1952), Rawhide (1959), Hee Haw (1969). Best known for his 1958 novelty song The Purple People Eater.
Born: 1921, Erick, Oklahoma; died: 2003, Nashville, Tennessee. George Houle Houle Rare Books & Autographs. We Guarantee Authenticity Of All Signed Items!
We Are Members of ABAA and PADA.

---